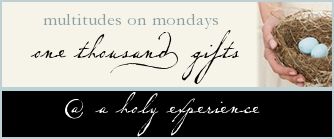 This week I am thankful for:
1. Going back to church after being on vacation/leave for 3 weeks. It was nice to get back to worship.
2. unexpected money
3. my neighbor across the street --she is awesome. she watered my flowers while we were on vacation and they are still alive!!
4. walk at night with my husband
5. my moms help.
6. working with my husband to move the swing set (huge job)
7. target toy clearance sale
8. sending 4 more packages of coupons overseas to military families
9. strawberries
10. govt passing the new budget. =means Chris gets paid for his military services.