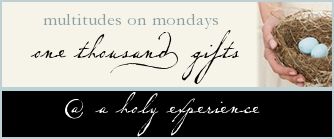 Thank you Lord for another week.
I got sick at the beginning of the week with a common cold but to someone with Fibromyalgia, it is not common. I missed Ladies Bible Study at church, Moms & Munchkins, and Homeworks (like Sunday school but on Wednesday night).
Thank goodness Father God blessed me with feeling well by the end of the week. I did one of my Extreme Coupon Classes at Church Saturday. It took hours of preparation but it was worth it to share my knowledge of coupon shopping with others. I also set up a "store" to raise money for Women's Ministry!!
thank you Lord for:
1. Knowledge of your word
2. Ability to tell others about you
3. New christian Tees from Mardel's
4. Nathan asking me why is there Jesus and God? That boy loves to pray and loves going to church!!
5. Shawn not having any of his episodes last week.
6. Ability to kick satan where it hurts when I need to. Jesus always makes sure we are taken care of.
7. Rain!!!!!!!!!!!!!!!!!!!!
8. Blessing of being broke. It makes me appreciate what we have. We have been broke since last week due to a month overloaded with bills and extra expenses but it has not been bad. We have plenty to eat and everything we need. So yes being broke has been a blessing in that it made me appreciate what we have and has pushed me even farther to bless as many as I am able.
9. Shawn and Devin working at food distribution at church. I was sad I could not help but I had to do the Coupon Class.
10. Christian music. I love listening to Modern Christian music 24/7. Helps me push myself by staying focused plus the kids love listening to it.