Multitude Mondays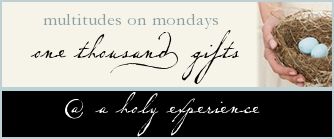 I am so thankful to have Jesus's spirit in my heart. I would be lost without the ability to pray to him any time of day or night. I heard the quote the other day on the XM channel "the message": Dont tell God about your mountain, telll your mountain about your GOD!!!!!!!!! God is the biggest and the best!!!!!!!!!! And he is on my side.
I am so thankful for:
the teens at church Sunday doing worship service. They are amazing. It is so neat to see teenagers love Jesus so much. They touch my heart every time they preform. They have a fine arts group that made it to the national competition level!!!!!
natalies gentle hugs
the few moments that fibro does go away and I feel slightly normal
shelley--she is so gentle and caring whenever I go get a hot stone massage. She really does care about her patients.
the ability to forgive others.
my husband who is the biggest kid ever
shawns party was so much fun. Thank you God for giving me such a wonderful son. This morning he was very angry before school for unknown reasons and when I dropped him at school he said "mama we need to talk to Jesus so I don't mess up today." WOW. He loves Jesus so much and it is amazing how Shawn is learning to stop and pray and lean on Father whenever he is getting upset. (he has cerebral dysrythmia, bipolar, and adhd.)
teaching a 3rd successful coupon class. I love talking about my hobby.
the people I have met with Fibro/CFS. Janet, Bonnie (farmgirl on WUC), Lisa (missy64 on WUC), Rachel (craftymama on WUC). and the many other people i have met that offer encouragement. It is tough to live life with Fibro and people don't really understand that unless they have it themselves.