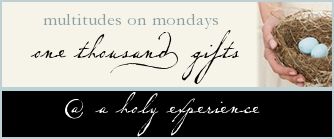 1. my doggies new haircuts today. they are so adorable
2. Natalie laughing at me and calling me her girlfriend.
3. Pastor Ron--he is amazing!!!!!!!!!!!!! wow!!!!!!!!! Never a dull moment when he is preaching.
4. Lifegroup---you know when several people are talking about God in their lives and tears are streaming down their face that God is definitely present.
5. the coffee table I am working on restoring
6. The message XM radio channel
7. Meeting someone today at Petco that told me that Meels on wheels now takes pet food donations!!! I have tons of animal food I have been wanting to donate.
8. Post-it notes
9. Unexpected financial blessings x2
10. ability to give more to church this month than we gave all year last year!!!!!!!!!!!! (half of which was to help missions in Vietnam build the FIRST church EVER for Jesus in their country) AMEN to that.