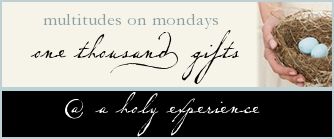 Thank you Lord for another week.
thank you father for:
1. Hanging out with my Devin. He is my sweet sweet son. He is always so goofy and fun to be around and hang out with. I have found myself lately not spending as much time with him as I would like so yesterday we went and hung out. It was a wonderful refresher. That boy always holds a sweet spot in my heart.
2. Third Day and Newsboys in concert Friday. It was so neat to be in a building full of screaming christian fans all praising JESUS!!!!!!!!!!!My type of place to go.
3. Being able to give bags of food to those in need.
4. Rescheduling of the doctors appointment I had Friday at 11am. I did NOT want to go because I was saving my energy for the concert Friday night (Third Day). I prayed for it to go well at the doctor. At 9am Friday, the secretary called and said we had to reschedule for Monday because the Doctor had an emergency surgery. How cool is that??? That is God answering a small but very important to me prayer.
5. Shawn finding a VERY good friend. Shawn has often struggled with finding and keeping friends. He finally has a good friend named Chris whom lives a couple of streets down from us. Chris is the type of person I would want any of my children to be friends with. Thank you LORD!!!!!!!!!!!
6. NEW sewing machine!!!!! I do not know how to sew but I am learning. I am very confident in anything and I know I can conquer sewing. The first thing I sewed was some curtains for the kitchen. Now I am working on the childrens costumes for Trunk or Treat at church on the 31st.
7. Thank you for changing me Lord. I am giving it all to you. Holding nothing back. Hiding nothing. So many people pick and choose what they give to Father but I am trying my hardest to give him it ALL. He is the only one who can move those mountains.
8. Thank you for allowing me to see potential in everyone. Even those people who look like garbage or worthless to most. God sees us as wonderful so we should look at everyone that way. God can change them and restore them.
9. Thank you for allowing me to fill my head with positive thoughts and get rid of all the negative self talk. Most people do talk to theirselves in a negative manner but I am trying to break that. Satan will not condemn me with negative thoughts anymore. Even on my worst days Father sees me as a jewel.
10. Thank you for putting the hunger to live in your word and worship 24/7. I am hungry Lord. Thank you.
Pictures of my joy: